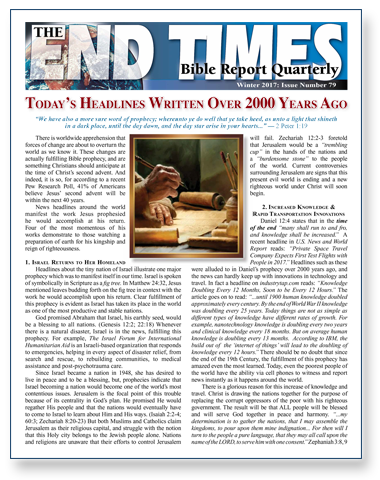 Winter 2017: Issue Number 79

Today's Headlines

There is great apprehension that forces of change are about to overturn the world as we know it. These changes are actually fulfilling Bible prophecy, and are something Christians should anticipate at the time of Christ's second advent. Today's headlines point to four definite prophetic signs which reveal Chist's preparation of the earth for his kingship and reign of righteousness.

Click the image to read a PDF
or click here

for text only HTML.

The End Times Bible Report Quarterly
is a helpful topical guide which brings understanding to current events and issues in the light of Bible teaching.

BROWSE PAST ISSUES of The End Times Bible Report Quarterly

To receive a free subscription to The End Times Bible Report Quarterly
in the USA or Canada by postal mail, or any place in the world by Email