Articles and Topical Studies
The problem of understanding why there is evil and suffering is really a problem about understanding God.The question challenges the very belief in the existence of God. If He is so powerful, so all-knowing if He made us, if He cares anything about us, why do we see all around us so many "bad things happening to good people"? Have the Scriptures overestimated the "love of God"? Perhaps He is all-loving, but lacks the power to protect and save—except on occasion. No, in addition to being all-loving and all-powerful, our God is very just and He is also very wise. Just as an architect cannot be judged by his unfinished work, so God cannot be judged by His unfinished work with mankind.
Read the online booklet: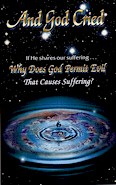 Read the online newsletter: Why Does God Permit Evil?
Read the online newsletter: The Whole Creation Groaneth
Read the online newsletter: Hope Beyond the Terror
Read online newsletter: If there is a God...Why?
Read the online booklet: What is this World Coming To?
Read the online excerpt (Chapter 7) from The Divine Plan of the Ages: "The Permission of Evil and Its Relation to God's Plan"
View online video: Where was God on 9/11?
Click Here for our FREE BOOK OFFER!
A Christian Classic - God's Permission of Evil in this world.
Featured in Chapter 7
Bible Question: 1John 3:6 - I believe I am saved by the blood of Jesus, but I still sin. (Romans 7) So how does the blood still cover me?
God is opposed to sin, and as much as we are following Him, in proportion we are to also hate iniquity but to love righteousness. But we are still of the human nature, we still "live in the flesh" as much as we want to and try to "live by the spirit." What the Apostle is referring to in this scripture is sin in it's fullest state, that is willful transgression of the divine law. Not all sins are this willful nature, as there are sins in which wilfulness is not complete, since they are the results of temptation, and sins that are the results of our own weaknesses through the Adamic fall. Such weaknesses and such stumblings under temptation belong to the flesh which is already reckoned dead (in the true Christian) and is not reckoned of God as belonging to the Christian. As you mentioned Romans 7 also explains this. Our God judges us not according to the flesh, but according to the spirit.
However, there are some partial sins—weaknesses of the flesh, and of where these weaknesses of the flesh that the mind failed to be as strong and courageous as it should have been, and to some extent yielded to the wrong-doing. With these God does deal with these with chastisements, in order to help them learn their lesson and be stronger in the future. We should be especially on our guard to not allow sin to deceive us and to partake in what we know God disapproves of.

Bible Question: Bad habits. How do you overcome something that you keep going over and over again?

The great work of the Christian during this present time is the process of putting off the old defilements (bad habits) and putting on the new character. The Apostle Paul speaks of this work in Colossians 3:9,10
Having put off the old man with his practices...put on the new one………..
What is it to put off the old nature, and how do we put on the new? According to the Apostle instructs we must set our affections on the things above, the heavenly things & at the same time we are to put to death our fallen fleshly desires. (Col. 3:1-5)
1 If ye then be risen with Christ, seek those things which are above, where Christ sitteth on the right hand of God. 2 Set your affection on things above, not on things on the earth. 3 For ye are dead, and your life is hid with Christ in God. 4 When Christ, [who is] our life, shall appear, then shall ye also appear with him in glory. 5 Mortify therefore your members which are upon the earth; fornication, uncleanness, inordinate affection, evil concupiscence, and covetousness, which is idolatry:
As Christians (New Creatures in Christ Jesus) we are declared to be dead to the world, and alive toward God through Jesus Christ our Lord. But this metaphor applies wholly to our transformed hopes and aims and ambitions, while this "new mind" must still operate through the old human body until the resurrection change. In reality, we have an enemy very close to us all the time—our old self. That "old man" would like to have you off guard to keep you from carefully scrutinize your thoughts, words & acts. You must not mind what the old man says; instead, listen for the Lord's voice, listen to his clear instructions through the Apostle, kill ("Mortify") the old man.
A large part of your difficulty, and the difficulties of all who seek to walk in the narrow way, is that the old man cries out and wants to retain liberty and life, but this is contrary to the interests of the New Creature, so no attention should be paid to it. Every time a contrary thought comes to mind, the old man must be told that he was put to death long ago & he will not have his way! Then we must replace these thoughts with the higher thoughts, the spiritual. The Apostle Paul tells us in (Rom. 12:2) that if we do this we will be transformed & The Apostle John says in (John 8:31,32) that we will be set free (free from doctrinal errors, free from immoralities, etc.)
(Rom. 12:2) And be not conformed to this world: but be ye transformed by the renewing of your mind, that ye may prove what [is] that good, and acceptable, and perfect, will of God.
(John 8:31, 32) If ye continue in my word, then are ye my disciples indeed. And ye shall know the truth and the truth shall make you free.
While instructing us to be dead toward earthly things and alive only toward the heavenly things, the Apostle doesn't counsel us to retire from the world, instead he tells us how to deaden our appetites, desires, etc., that are rooted and grounded in our fallen flesh. He mentions these fallen tendencies, starting with the grosser and ending with the most subtle, in Colossians 3:1-5.
The Apostle Paul speaks of struggles with the bad habits of his flesh in Romans 7: 15-25 —
"For that which I do I allow not: for what I would, that do I not; but what I hate, that do I. If then I do that which I would not, I consent unto the law that [it is] good. Now then it is no more I that do it, but sin that dwelleth in me. For I know that in me (that is, in my flesh,) dwelleth no good thing: for to will is present with me; but [how] to perform that which is good I find not. For the good that I would I do not: but the evil which I would not, that I do. Now if I do that I would not, it is no more I that do it, but sin that dwelleth in me. I find then a law, that, when I would do good, evil is present with me. For I delight in the law of God after the inward man: But I see another law in my members, warring against the law of my mind, and bringing me into captivity to the law of sin which is in my members. O wretched man that I am! who shall deliver me from the body of this death? I thank God through Jesus Christ our Lord. So then with the mind I myself serve the law of God; but with the flesh the law of sin."
The Apostle represented not only himself but all sincere followers, groaning under the Law, when he cried out, "O wretched man that I am! Who shall deliver me from this dead body?" (Rom. 7:24.) He was mourning, and the Lord appointed that all the mourners in Zion should be comforted-(Mat. 5:4)-comforted with the assurance that, while they were sinners and imperfect and could never justify themselves before God under the Law, nevertheless, God himself had found a ransom, had redeemed his people (1Tim 2:4-6). It is in view of this comforting assurance of the Gospel that the Apostle, after representing himself as the Jew, under the Law, groaning and travailing, and crying for deliverance, in the next breath represents himself as the Christian who has found the deliverance, and exclaims, "Thanks be unto God, who giveth us the victory through our Lord Jesus Christ!"
We can't keep the Law in our flesh because our flesh has inherited various weaknesses and fallen tendencies. But we are to continually strive against these inherited weaknesses. But by the Lord's grace we have forgiveness of our sins through our Lord Jesus. And as true Christians our hearts desire is to do the will of God, his will becomes our will, our mind. So with this new mind (or will) we can do perfectly, that is we can be perfect in our heart intentions.